MANIFESTO
I never met my great-grandmother, Emiliana. But I know about her story, her taste and her personality. Her jewels told me all about it. Emiliana was one of the strongest women I have ever heard of. Well… after my grandmother, María Luisa, who definitely inherited her character and taste, an excellent one indeed. I did meet her. But her jewellery told me a lot about her too.
To this day that she´s no longer here, when I look at her jewels they continue revealing stories of a women who had little in her life when it comes to material possessions, but I am one of those who believe that good taste is something you are born with. So it doesn't matter what it is or how much you own or have. Because everything you have is exquisite. All of this I know because she was my grandmother, but also because of the jewellery she wore. She knew how to choose statement yet delicate pieces, timeless… jewels that nighty two years later have inspired a brand and that have inspired me throughout my whole life. Like my mother, Gema, who has worked in jewellery from the age of eighteen so she could help her family renouncing to continue with her studies, and graduating in nursing at the age of fifty-nine. Her jewels and creations have also told me a lot about her from the times before I met her; and they always accompany me.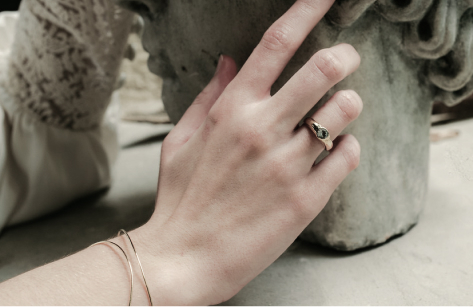 From we are Candelaria I propose you to create your own story. To start investing in quality, not in quantity so that you can buy in a more sustainable and balanced way whilst investing in timeless and long-lasting jewels that will tell your story. This is the reason why we exclusively handcraft our pieces in 18k recycled gold, giving life to other pieces that have been the inheritance of other people, and that make ours even more valuable and special.
If you are wondering why we manufacture your jewels in 18k gold and not lower is because we are one of those who think that "if you do something, you do it well", and 18k gold is the most valuable and durable type of gold, as it contains the highest amount of pure gold in each jewel, which is 75.01%
As we just said, we like to do things well. Therefore we exclusively use lab-grown diamonds, since we believe that the things we own should not harm what gives us the most, the earth. In addition, we have worked very hard on a recyclable and plastic-free packaging proposal, with the intention to be as sustainable as possible, being sustainability one of our brand pillars and main goals.
With this project, we are Candelaria, I bring you the proposal of my mother Gema, my grandmother María Luisa and Emiliana. To invest in jewels that last forever, that represent you and that will tell your story to the generations to come. I propose you to buy less, but of the best quality. To invest in ethical and sustainable jewellery without giving up fashion, style, uniqueness and versatility, as the three of them did. Because good taste never goes out of style, just like our pieces, those of Gema, María Luisa and Emiliana, which are now Candelaria.
Start building your own legacy with us, create heritage
GIVEN OUR PHILOSOPHY, ALL OUR JEWELS ARE EXCLUSIVELY SOLD ON A PRE-ORDER BASIS IN ORDER TO BE MORE SUSTAINABLE
SHOP